Oklahoma is Black - Video Installation & Documentary Short
BlackMagic Ursa Mini Pro 4K | Assortment of Vintage Lenses


'Oklahoma is Black' is one of 1 of 3 video installations created for Tatyana Fazlalizadeh's solo exhibition 'Oklahoma is Black,' at
Oklahoma Contemporary. This work was site-specific and projected inside of a planetarium. The exhibition ran from February 21st - May 31st, 2019.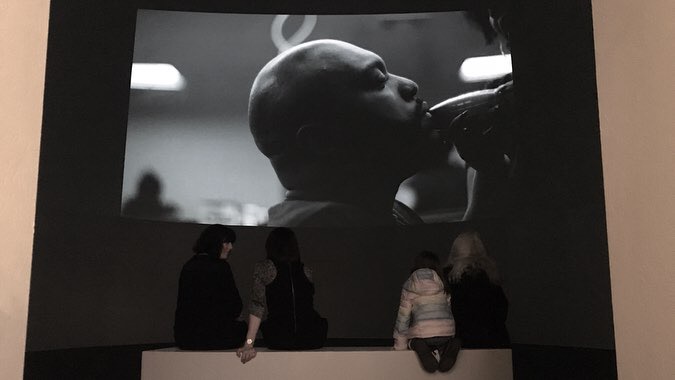 The installation is now being shown at film festivals as a documentary short.

Synopsis: 'Oklahoma is Black' is a portrait of Black life on the Northeast side of Oklahoma City. It is a meditation on the resilience of a community and the places in which it thrives, of its complexities and its nuances, and of its concern of what has passed and for what's to come.

Runtime: 4 minutes

Credits
Director/Cinematographer/Editor: Melinda James
Co-Director/Producer: Tatyana Fazlalizadeh
Original Score: Emily McLean
Post-Production Sound: Jared Fellows
Creative Consultant: Susie Smith
With Support from Oklahoma Contemporary

Screenings
2021

DCA's Reimagine Public Art's Curatorial Showcase - "Songs for a Revolution." Online.

Inaugural Black Diaspora Short Film Festival at DePaul University. Online.
Ambulanté. Online.
2020

16th Annual Queer Women of Color Film Festival. San Francisco, CA.
Maori Holmes Presents: "Only When It's Dark Enough Can You See the Stars". Indiana University Bloomington. Bloomington, IN.

Huntington Beach Cultural Cinema Showcase. Huntington Beach, CA.
SF Urban Film Festival. Yerba Buena Center for the Arts. San Francisco, CA. [Co-Curator of the Program, 'let me tell you what home looks like.'].
2019
BlackStar: Best of the Fest 2019 at Colgate University. Hamilton, NY.
Cucalorus Film Festival. Wilmington, NC.
Indie Memphis Film Festival. Memphis, TN.
*Best Documentary Short Nomination

New Orleans Film Festival. New Orleans, LA.
*Best Documentary Short Nomination

BronzeLens Film Festival. Atlanta, GA.

DC Black Film Festival. Washington, DC.

*Best Documentary Short Nomination

BlackStar Film Festival. The Lightbox Film Center, Philadelphia, PA. [Premiere]

*Best Documentary Short Nomination